Event Details
LifeSteps® Weight Management Program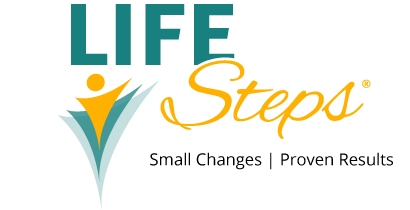 About This Event
Details:
Please join our informational sessions on:
August 3rd and August 10th @ 2:00 PM in Community Room 2 at Wayne HealthCare.
For nearest access to the Community Rooms:
Park in LOT E and use the HARRISON STREET ENTRANCE.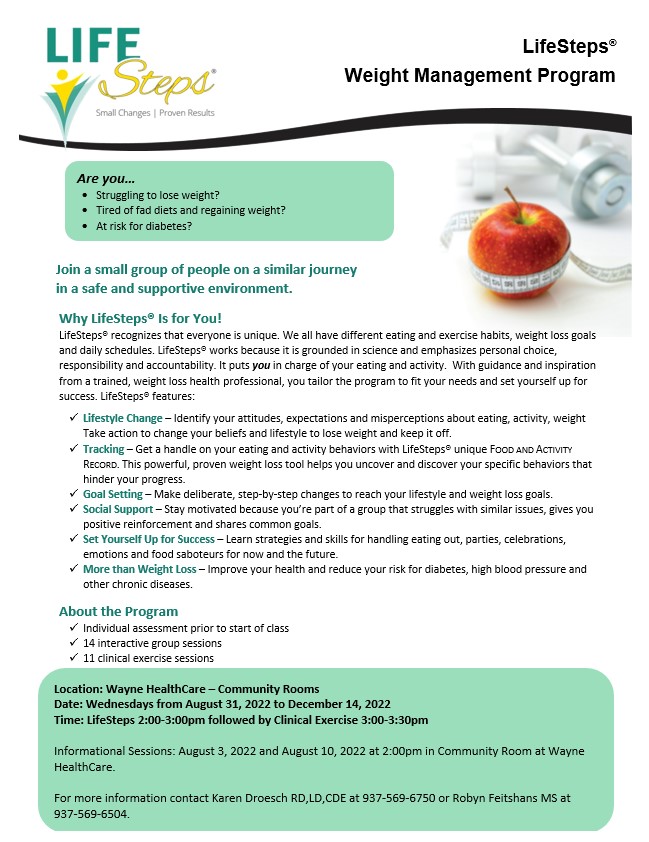 LifeSteps® recognizes that everyone is unique. We all have different eating and exercise habits, weight loss goals and daily schedules. LifeSteps® works because it is grounded in science and emphasizes personal choice, responsibility and accountability. It puts you in charge of your eating and activity. With guidance and inspiration from a trained, weight loss health professional, you tailor the program to fit your needs and set yourself up for success. LifeSteps® features:
Lifestyle Change – Identify your attitudes, expectations and misperceptions about eating, activity, weight Take action to change your beliefs and lifestyle to lose weight and keep it off.
Tracking – Get a handle on your eating and activity behaviors with LifeSteps® unique Food and Activity Record. This powerful, proven weight loss tool helps you uncover and discover your specific behaviors that hinder your progress.
Goal Setting – Make deliberate, step-by-step changes to reach your lifestyle and weight loss goals.
Social Support – Stay motivated because you're part of a group that struggles with similar issues, gives you positive reinforcement and shares common goals.
Set Yourself Up for Success – Learn strategies and skills for handling eating out, parties, celebrations, emotions and food saboteurs for now and the future.
More than Weight Loss – Improve your health and reduce your risk for diabetes, high blood pressure and other chronic diseases.
About the Program
Individual assessment prior to start of class
14 interactive group sessions
11 clinical exercise sessions
Event Coordinator
Karen Droesch

RD, LD, CDE
Registration
Price:

$150.00
Registration Instructions:

Please Register to Karen Droesch RD, LD, CDE by August 22nd, 2022.

937.569.6750 or Karen.Droesch@WayneHealthCare.org