Quality and Recognition
Wayne HealthCare Continues to Shine with Outstanding Awards and Recognition
Wayne HealthCare has received numerous awards on the local, state and national levels over the years. Like many other health care facilities, the hospital is making strides to improve the patient experience and expand services to the community. Here are just a few of the highlights: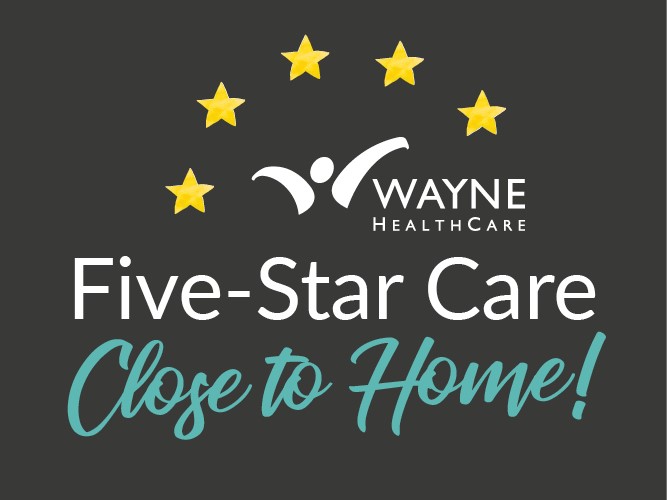 Program Recognition
In 2022, Wayne HealthCare earned a CMS 5-star overall rating for the third consecutive year. Centers for Medicare & Medicaid Services (CMS) ratings are based a hospital's performance in a vast array of quality measures in multiple categories. This is the highest rating any hospital can earn.
Wayne Cancer Center received National Outstanding Achievement Award from American College of Surgeons' Commission on Cancer. Wayne Cancer Center was one of 74 U.S. health care facilities with an accredited cancer program.
Wayne HealthCare received Healthgrades Patient Safety Excellence Award. The award ranks Wayne HealthCare in the top ten percent of all hospitals in the country based on improved quality outcomes, improved reimbursement and improved bottom line.
We received a superior score of 96 on our Anthem Score Card. The score was a double-digit improvement from the prior year.
We received a Leapfrog Hospital Safety Score of B. We improved our score from the previous year by implementing specific patient safety and quality improvement measures.
We received recognition for our engagement in the state Partnership for Patients initiative. We reduced adverse outcomes by 55%, improved patient and family engagement by 39% and improved safety leadership by 29% in the OHA Hospital Engagement Network. We were well below the national average for hospital-acquired conditions.
Community Outreach
We continue to build relationships and provide community outreach to local business and organizations that were interested in enhancing the health and wellness of their employees, families and the community. Here are just a few of the highlights:
Wayne HealthCare was one of 3 corporate sponsors for the Wayne HealthCare Challenge. Nineteen races were coordinated throughout the county, a substantial increase from our first year.
We increased our local health fair participation this year. We offered various health screenings, awareness information and onsite scheduling of appointments.
Wayne HealthCare increased the awareness and participation of employee health and wellness events. Some of the events were Weight Watchers at Work, Group Lifestyle Balance Program and Bravo Wellness.
The Cardiac Rehabilitation program was added to the services in the Lifestyle Enhancement Center.
As a rural 92 bed licensed, nonprofit acute care hospital we are proud to share our progress with the Darke County community. Our success is a result of the continued support of the community in which we live and the dedication of nearly 500 employees, doctors and volunteers at Wayne HealthCare. We look forward to continuing the services we offer, while collaborating with other health care organizations to bring new services to our community.