Employee Of The Month: Shelly Acker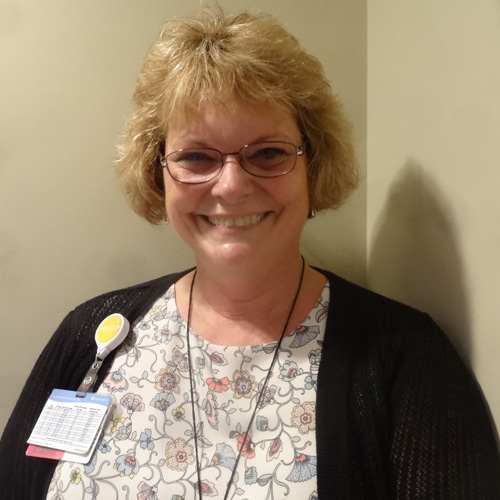 CLINICAL RECOGNITION | August 2018
NAME: Shelly Acker
DEPARTMENT: Cardiopulmonary
YEARS WORKED AT WAYNE HEALTHCARE: 19 Years
SPECIAL EXPERIENCE OR FAVORITE MOMENT AT WAYNE HEALTHCARE:
There are many favorite and special moments over the last 19 years! Some that come to mind are:
I love it when a team of employees come together to do what is best for the patient, whether at the bedside, or support departments or in meetings to change systems and processes. I see it happen here almost every day!
I loved being part of the "AIDET 5". It was truly rewarding to see so many of the staff having a great time being part of the video. The creativity, hard work, and engagement that went into making something memorable about customer service was very moving.
I cherish the friends I have met along the way. We've had some great laughs and big tears. I hope to continue to make ones in the years ahead.
FAMILY: My son, Ryan who lives in Seattle, Washington. My little dog, Chewie "Chewbacca T. Acker", Sister-Pam, several nieces, great nephews and nieces. Tony B. - My dear friend and dog walker. AND MY WORK FAMILY
HOBBIES: Walking, Chewie, traveling spending time with family and friends, learning new things, Eating and swinging in my hammock!
REASON SELECTED FOR EOM:
Shelly demonstrates all the attributes of an Employee of the Month! She is actively involved with Respiratory, EKG, Stress Lab, Wellness, Community Outreach and Transitional Care. She regularly provides direct patient care when needed, while also serving as a leader for the team. She cares about patients and works toward creating ways for the facility to be able to assist needy individuals in this community. She ALWAYS has a POSITIVE attitude (and a SMILE ) and is one of the most compassionate people I have ever met. Wayne HealthCare is better because of Shelly Acker!! THANK YOU SHELLY!!!!!!! Angie Lakes
VALUES DEMONSTRATED: Teamwork, Leadership, Positive Attitude, Accountability and Compassion