5-Star Community Celebration
5-Star Community Celebration
We're throwing a party, and you're invited! For the second year in a row, Wayne HealthCare has received a 5-star rating for Quality of Care from the Centers for Medicare & Medicaid Services.
Part of the rating is based on the patients' experience. So, YOU helped us achieve the highest rating any hospital can receive and for two consecutive years no less.
We want to Thank YOU!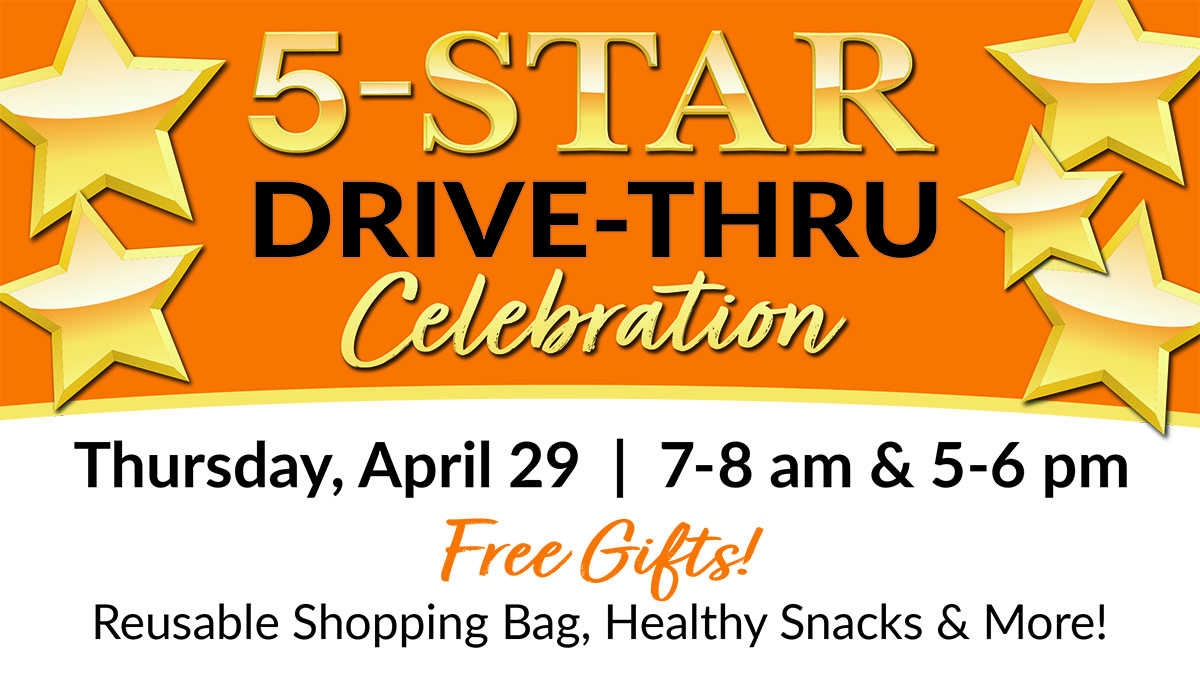 ​
What: 5-Star Drive-Thru Community Celebration
Where: Wayne HealthCare New Addition- 835 Sweitzer St., Greenville, OH. Note: Please enter via Fair Street and follow signs to nSee below directions for details.
When: Thursday, April 29 from 7 a.m. - 8 a.m. and 5 p.m. - 6 p.m.
Why: To show our appreciation to our community
Safeguards: Rest assured that all providers and staff who'll be handing out our 5-star gift bags filled with goodies have been vaccinated against COVID-19. Additionally, everyone will be wearing masks. We'd ask that you wear a mask too.
Directions:
From Sweitzer Street, turn onto Fair Street
From Fair Street, turn left onto Harrison Street
Turn left onto Martz Street
Pull into the Hospital's new Harrison Street entrance (look for the Special Event Entrance Signs and yard signs, pointing the way to the event.
Once you've arrived, just stay in your car, and one of our providers or staff members will approach your car and thank you for helping us achieve 5-stars and hand you your special gift. In addition to a reusable nylon shopping bag, you'll receive a number of healthy snacks, as well as some other surprises.
QR Code - Learn More
To help familiarize our community with our new addition's service offerings, we've included a post card in the goodie bag. You'll notice a QR code on the card. If you snap a pic of the code with your smartphone and check the corresponding boxes next to patient services you'd like more information about, we'll email or mail you info ASAP.
So, we hope you'll join us for this community celebration. Thank YOU, and see YOU soon!