Employee Of The Month: Abbi Bergman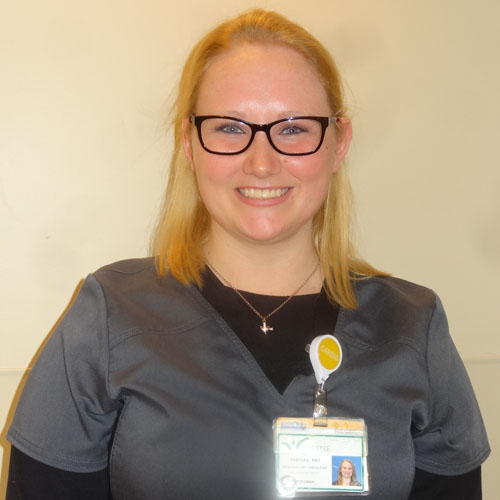 CLINICAL RECOGNITION | MAY 2018
NAME: Abbi Bergman
DEPARTMENT: Respiratory & Cardiopulmonary
YEARS WORKED AT WAYNE HEALTHCARE: 1 Year
FAMILY: Daughter - 3 Sisters: Malorie, Lindsey and Rachel. Soon to be an Aunt for the 1st time!!
HOBBIES: I like to read and babysit my younger cousins.
SPECIAL EXPERIENCE OR FAVORITE MOMENT AT WAYNE HEALTHCARE: I like being able to help my Patient's and their loved one's undertand more of their Respiratory Disease and know that they will be better off when they leave here.
REASON SELECTED FOR EOM:
ABBI ALWAYS COMES TO WORK WITH A SMILEON HER FACE. SHE ALWAYS GOES THE EXTRA MILE FOR THE PATIENTS. WHEN FOLLOWING HER, SHE IS CONSISTENTLY MENTIONED BY THE PATIENTS AND FAMILY MEMBERS FOR DOING A GREAT JOB! ABBI HAS SHOWED ENORMOUS GROWTH FOR BEING A NEW THERAPIST! ABBI HAS BEEN A LIFESAVER FOR THE RESPIRATORY DEPARTMENT BY PICKING UP DAYS, MIDS AND NIGHT SHIFTS!
VALUES DEMONSTRATED: Teamwork & Excellent Communication