Employee Of The Month: Deb Liette, BSN, RN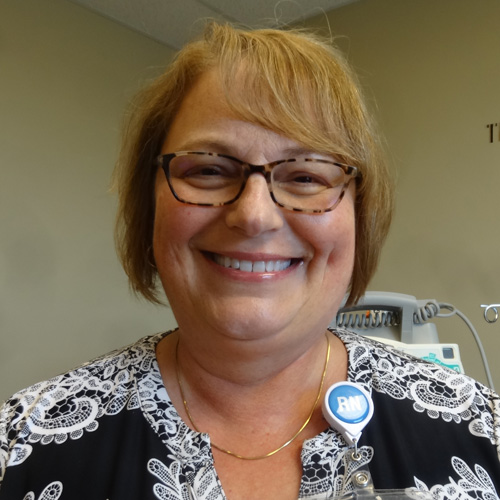 NON-CLINICAL RECOGNITION | October 2018
NAME: Deb Liette, BSN, RN
DEPARTMENT: Education
YEARS WORKED AT WAYNE HEALTHCARE: 39 Years
SPECIAL EXPERIENCE OR FAVORITE MOMENT AT WAYNE HEALTHCARE: My favorite moments are when I have patient families that recognize my voice or face when I am out in our community. I worked many, many years at the bedside in Critical Care at Wayne HealthCare & at K.M.C. I recently was pleasantly surprised to talk with a family member who remembered me when I cared for their parent here at Wayne in ICU. Their comments are treasures & remind me why it is a privilege to care for patients. I also love it when I hear our employee's comment of what they have recently learned in class & how it has impacted upon their practice.
FAMILY: Married for 38 years to my child-hood sweetheart, husband, Ken Liette, School Teacher at Ansonia Middle School for 30 years. Son, John Liette, Doctor of Audiology (Au. D) Student University of Cincinnati. Daughter-in-law, Angie (Gilmore) Liette, LSW at Blue Ridge Vista Health and Wellness in Cincinnati, Ohio (I finally have a daughter!!). Their wedding date was 7-14-2018!
HOBBIES: We travel as a family to watch the Cincinnati Reds play through-out USA & Canada. Each year brings a new adventure visiting our Beautiful America! I also like to play Poker ever since I first started hanging out with the Liette's. I especially like to win!!
REASON SELECTED FOR EOM:
Deb has been a mentor to me since starting at Wayne healthcare. She approaches everything with a positive attitude; she listens to my concerns, and is able to always give valuable feedback. She keeps up with current education trends so that our staff is trained effectively and adequately. She goes above and beyond to assure the staff has the education they need. She provides feedback in meetings to help construct a plan to educate the staff thoroughly and effectively. She remains calm, organized, and professionally at all times. Recently a staff member had a mix up and was unable to attend ACLS at the scheduled time. Deb worked her into the schedule and stayed over extra to ensure that the nurse has the certification she needed. She wanted to assure the nurse did not have to be taken off the schedule and she had the certification she needed to complete her job in ED. Thank You Deb for your dedication to Wayne HealthCare, our employees, patients and myself personally! You are a true asset to our organization! Your willingness to help every single person no matter the circumstance does not go unnoticed!
Nominated by Lindsey Terrace RN,BSN
VALUES DEMONSTRATED: Teamwork, Positive Attitude and Compassion