Employee Of The Month: Sonja Etzell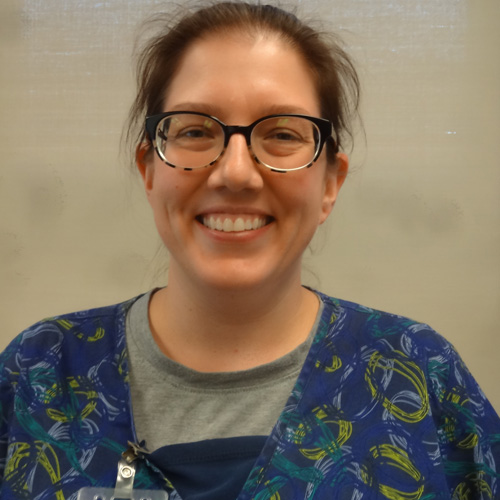 CLINICAL RECOGNITION | September 2018
NAME: Sonja Etzell
DEPARTMENT: Pharmacy
YEARS WORKED AT WAYNE HEALTHCARE: 13 Years
SPECIAL EXPERIENCE OR FAVORITE MOMENT AT WAYNE HEALTHCARE:
It was December, so I had strung up some snowflakes to decorate in the Pharmacy. Bobbi Hinker and I were just getting started in the morning when the Operator called to say that the Pharmacy alarm had gone off overnight, but the house supervisor had checked and everything was okay. Bobbi was perplexed as to what had set off the alarm. Just then the air vents in the ceiling kicked on and rustled and blew the snowflakes. That was the end of my snowflakes.
HOBBIES: Sewing, Drawing, Arts and Crafts
REASON SELECTED FOR EOM:
The Pharmacy has gone through some turnover recently. Sonja went from being a Resource Tech to Full-time Tech and has taken on many responsibilities left behind by the outgoing techs. Sonja works very hard. In addition to her daily work she takes on extra projects. She is very good at problem solving whenever something comes up that is hard to solve. She knows the answer to everything (or seems to). I think of her as the lead tech. She is not hesitant to take on any challenge.
VALUES DEMONSTRATED: Teamwork & Leadership