Employee Of The Month: Jeanette Weimer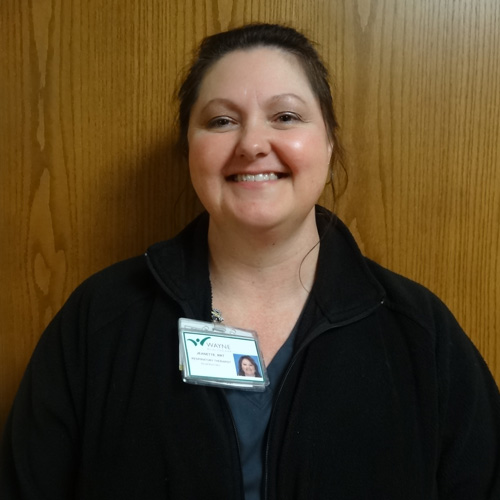 CLINICAL RECOGNITION | May 2019
NAME: Jeanette Weimer
DEPARTMENT: Cardiopulmonary
YEARS WORKED AT WAYNE HEALTHCARE: 6 Months
SPECIAL EXPERIENCE OR FAVORITE MOMENT AT WAYNE HEALTHCARE: I love that Wayne HealthCare remains family oriented and hasn't lost themselves to a corporate world. Everyone is friendly and willing to lend a hand.
FAMILY: Husband-Jimmy, Children-Brooklynn Drake(18) and Colten Weimer(9)
HOBBIES: I love camping, Fishing, Racing, Gardening and Crafting
REASON SELECTED FOR EOM: Jeanette volunteered to visit the Nursing Homes when we had a staffing challenge. Our Primary Therapist was unable to make weekly Nursing Home visit. Jeanette volunteered to help. There were several complicating issues at the facility which she handled with care. She did this on her day off! Great job Jeanette!!
Jeanette had another strange event occur. A strange car was parked in her driveway as she left for work. She stopped and evaluated the driver. He required medical assistance. Jeanette put him in her car and drove him to ED. All this at risk to herself as she did not know the individual, but she SAVED his LIFE!!!!! WOW!!!!!! KUDOS TO JEANETTE!!!!!!! GREAT JOB!!
VALUES DEMONSTRATED: Responsibility