Employee Of The Month: Jennifer Hamm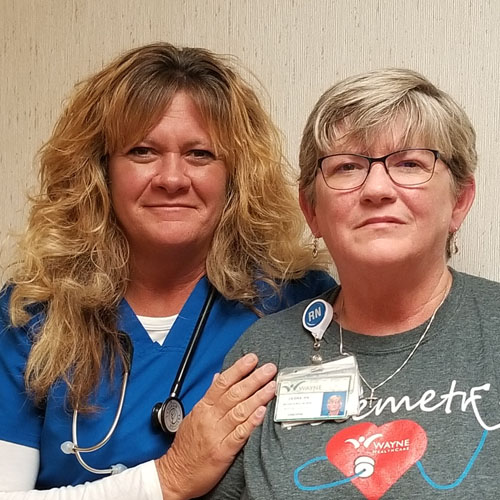 CLINICAL RECOGNITION | November 2019
NAME: Jennifer Ham
DEPARTMENT: Emergency Department
YEARS WORKED AT WAYNE HEALTHCARE: 16 Years
FAMILY: My husband, son - Dylan 23, daughters - Katie 20 and Kylie 14. My mother Deb Osborne and sister Cille are fellow WHC employees – and don't forget my Dad, Stan, too!
HOBBIES: Shopping, spending time with my family, laughing, and of course Greenville Softball! Go LWSB!!
REASON SELECTED FOR EOM:
Jennifer always comes up to 3N or ICU to start an IV if we can't get one, and never misses. She's even started IVs in Behavioral Health to help out. I tell people I have friends in low places (in the ED) and a friend in the highest place – Jesus.
Jennifer Bailey in Social Services came up to me the other day and stated that I should be proud of my daughter, Jennifer, because she took care of her in the ED and really was a big help. She made her feel like family. She is just one of many employees at WHC that does our job well and treats people like family. I am not saying this because she is my daughter, but because she does her job well and I am very proud of her.
Sometimes it takes an extraordinary person to open our eyes to how good people really are, and some actually really treat each patient as an individual. WHC should recognize how lucky they are to be able to keep these great employees, the ones that make ordinary into extraordinary! God bless the great staff at WHC!!
Submitted by Deb Osborne,RN
VALUES DEMONSTRATED: Leadership, Compassion, Teamwork, Accountability and Positive Attitude