Employee Of The Month: Jennifer Bailey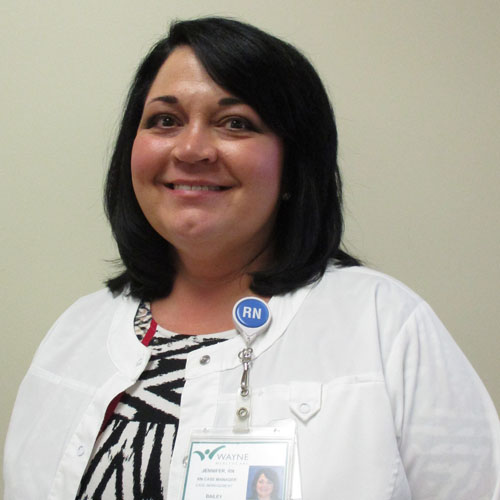 CLINICAL RECOGNITION | January 2020
NAME: Jennifer Bailey
DEPARTMENT: Patient Care
YEARS WORKED AT WAYNE HEALTHCARE: Less than 1 year
SPECIAL EXPERIENCE OR FAVORITE MOMENT AT WAYNE HEALTHCARE: My favorite moments are when I am able to help patients connect with services/assistance that will allow them to remain in their home longer.
FAMILY: Husband - Jeff and four daughters
HOBBIES: I love spending time with my family, friends, and fur babies. I also like to garden and travel.
REASON SELECTED FOR EMPLOYEE OF THE MONTH: Jennifer is a case manager in the ED. Recently, there was a very traumatic accident that occurred. A patient was brought in, and the family was very distraught. The social worker overseeing the situation called Jennifer and asked her if she could come in early to help. Jennifer didn't hesitate even for one second and volunteered to come in early to help comfort the family and handle the difficult situation. Jennifer always puts patients first and demonstrates the best values in a teammate and a Wayne HealthCare employee.
SUBMITTED BY: Chris Chapa
VALUES DEMONSTRATED: Compassion, Teamwork, Accountability, Leadership and Positive Attitude