Outpatient Rehabilitation
Helping you move forward with your life.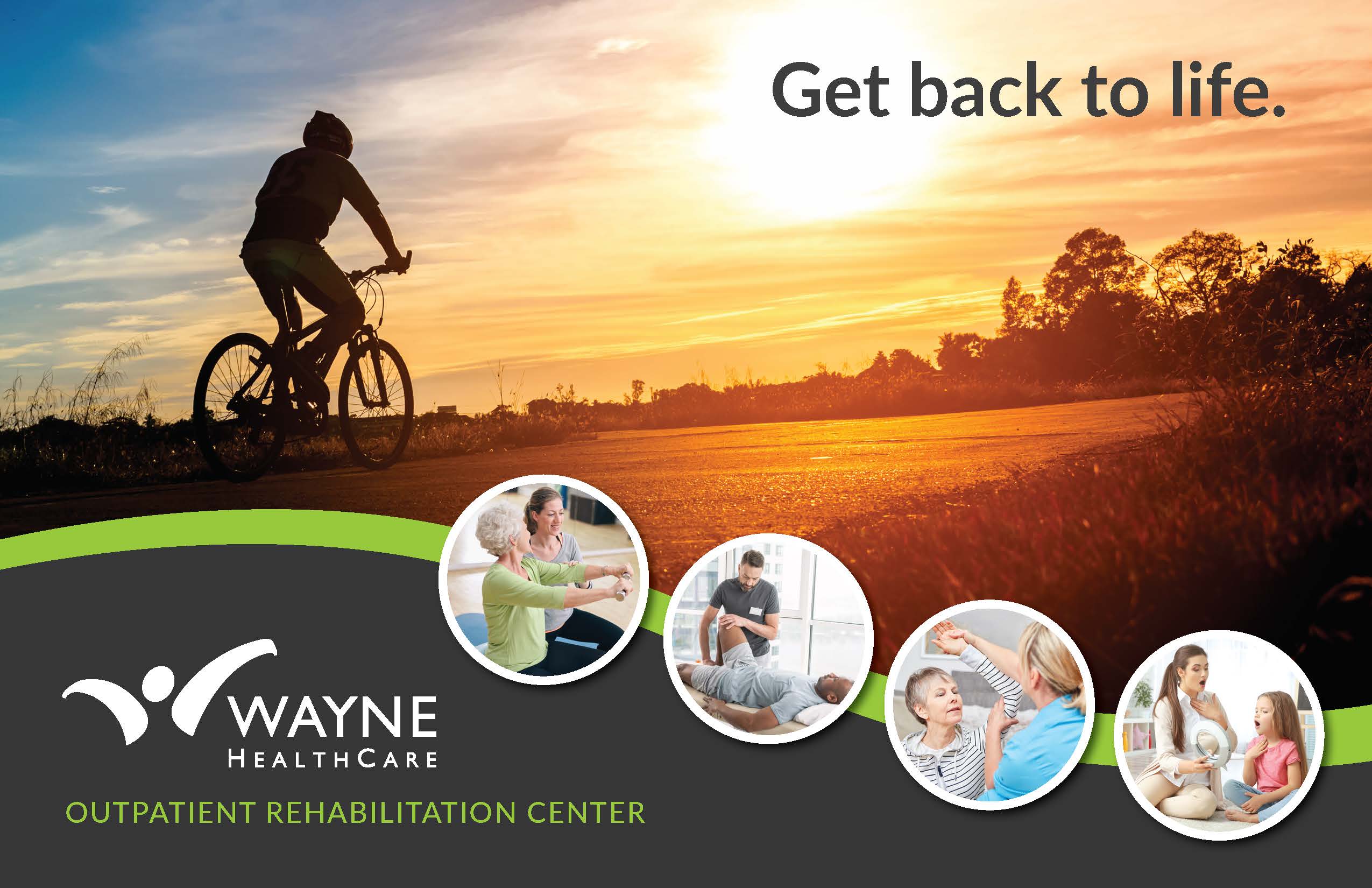 At Wayne HealthCare Outpatient Rehabilitation our goal is to get you moving forward with your life. After a thorough examination, your therapist will develop a plan of care tailored to meet your specific needs. Our friendly and professional staff will help motivate you to achieve your optimal functional level.
Our friendly and professional front office staff will be happy to verify your insurance coverage and answer questions you may have.
Outpatient Rehabilitation Flyer
We offer a unique approach to...
Fall Prevention
The fall prevention program is for older adults at risk of falling due to lower limb weakness, poor balance, slow reaction time or a combination of these symptoms.
Aquatic Therapy
This is another unique service we are able to offer our patients. The Aquaciser underwater treadmill can have many benefits for different conditions including arthritis, joint pain, back pain, and lower extremity conditions that benefit from unloading the joints.
Physiatry Services
Wayne HealthCare Outpatient Rehabilitation also offers Physiatry Services.
David S. Seymour, M.D. serves as the facility Medical Director.
Our licensed and experienced staff is trained to evaluate and treat patients with a range of conditions including:
Sports Injuries
Vestibular Dysfunction
Neurological Disorders
Fall Prevention
Prenatal/Postnatal
Wound Care
Splinting
Neck & Back Pain
Orthopedics
MVA Injuries
Sprains & Strains
Hand Therapy
Foot & Ankle
ADL Training
Home Safety
Joint Replacements
Prosthetic Training
Meet our Team of Assistants
Physical Therapist Assistants
Dee Carrington, PTA
Terry Thobe, PTA
Nicole Fourman, PTA
Kaitlin York, PTA
Renee Overman, PTA
Stephanie Beisner, PTA
Allison Wright, PTA
Bethany Floyd, PTA
Kaitlyn Strait, PTA
Occupational Therapist Assistants
Meet our Team of Therapists
Jim Beyke, PT, MPT
Director of Rehab Services
Employed at Wayne HealthCare in 1996
Andrews University, MPT 1996
Special interest in sports medicine & orthopedics
Michelle Young, PT
Employed at Wayne HealthCare in 1992
Indiana University, BS, PT 1988
Certified in Dry Needling
Special interest in geriatrics
Cathy Lucente, PT
Employed at Wayne HealthCare in 1998
The Ohio State University, BS, PT 1998
Special interest in orthopedics & geriatrics
Mark Suter, PT
Employed at Wayne HealthCare in 2001
The Ohio State University, BS, PT 1996
Special interest in geriatrics
Sarah Rindler, PT, MPT
Employed at Wayne HealthCare in 2004
Medical College of Ohio, MPT 2003
Certified Lymphedema Therapist
Special interest in orthopedics and pediatrics
Hannah Arbogast PT, DPT
Employed at Wayne HealthCare in 2015
Andrews University, MPT 2004
University of Indianapolis, DPT 2010
Special Interest in vestibular, women's health and manual therapy
Kate Young, PT, DPT
Employed at Wayne HealthCare in 2016
Long Island University, DPT 2014
Certified in Dry Needling
Special interest in manual therapy and vestibular rehabilitation
Ashley Giere, PT, DPT
Employed at Wayne HealthCare in 2020
University of Toledo, Doctorate, 2017
Certified in Dry Needling
Certified LSVT BIG provider
Certified Postpartum Corrective Exercise Specialist
Special interest in sports medicine and postpartum health
Carolyn Rauh, PT, MPT, CIDN
Employed at Wayne HealthCare from 2001-2016 and again in 2021
Andrews University MPT 2000
Certified Integrative Dry Needling-CIDN
Special interest in spine care, headache management and orthopedics
Sarah Hein, PT, DPT
Employed at Wayne HealthCare in 2018
University of Findlay, BS, DPT 2017
Special interest in dry needling & orthodedic surgeries
Todd Miller, PT, MPT
Employed at Wayne HealthCare in 2019
University of Michigan, MPT 1991
Certified Strength and Conditioning Specialist
Special interest in orthopedics
William Stall, OTR/L
Employed at Wayne HealthCare in 2008
State University of N.Y. at Buffalo, BS OT 1998
Special interest in hand therapy
Kendell Limburg, OTR/L
Employed at Wayne HealthCare in 2018
University of Findlay, Masters of Occupational Therapy 2017
Wright State University, Bachelors of Rehabilitation Services 2010
Special interest in acute care