Employee Of The Month: Tammy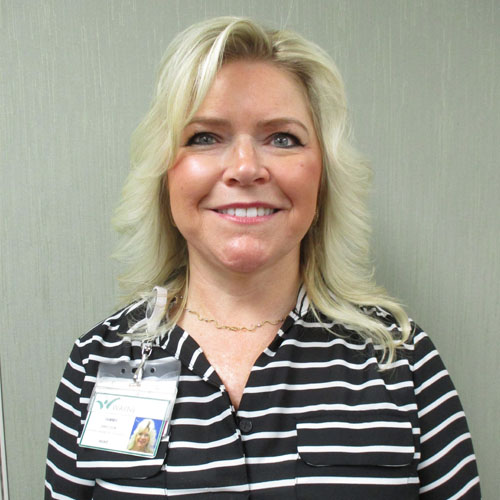 OPERATIONAL RECOGNITION | February 2020
NAME: Tammy Hoke
DEPARTMENT: Patient Financial Services
YEARS WORKED AT WAYNE HEALTHCARE: 7 Years
SPECIAL EXPERIENCE OR FAVORITE MOMENT AT WAYNE HEALTHCARE: I've had the pleasure of many special experiences during my tenure at Wayne HealthCare. I'm blessed to have the opportunity to work for such an amazing facility filled with compassionate individuals, that I get the privilege to work with daily. My favorite moments were when my two grandbabies, Layla and Lincoln, were born right here at Wayne HealthCare.
FAMILY: I have been married for 32 years to my husband Joe. We have two sons, Joshua (28) and Justin (21). We also have two grandchildren, Layla (5) and Lincoln (1).
HOBBIES: Spending endless hours with Grandbabies making memories! Shopping for shoes, and rollerskating.
REASON SELECTED FOR EMPLOYEE OF THE MONTH:
As Director of Patient Financial Services, Tammy is always looking for ways to improve current processes. With her team's input, she works with payers to resolve any barriers to care and the processing of claims. She also works collaboratively with other departments to improves processes, which create better outcomes for all.
She engages creatively with her team to reduce account receivables. One example of how she does this is by holding contests, which both incentivize and create a fun working environment. Tammy takes her responsbility seriously, and she's accountable, not only for her own actions but also for others. She is all of the things listed under Employee of the Month. She is a great Director!!!
SUBMITTED BY: Anonymous
VALUES DEMONSTRATED: Positive Attitude, Compassion, Accountability, and Teamwork