Healthy Living Program
Category: Social
Posted On:
Written By:

Jennifer Robinson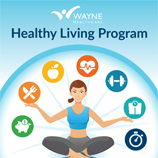 Are you looking for a lifestyle change that will last? Wayne HealthCare's Healthy Living Series can help you develop and maintain a healthier lifestyle through small manageable changes in your eating, physical activity, and overall behavior.
In addition to weight loss, a healthier lifestyle can lower your risk of high blood pressure, heart disease and diabetes. Plus, the extra bonus: a healthier lifestyle can save you $$$ in medical costs and expensive bad habits, like eating junk food.
Your instructors will share how to stay focused and overcome obstacles to eating healthy, staying active, and making behavioral changes. You'll be encouraged and supported by your fellow class participants, as you embark on this exciting journey together.
Two Simple Goals:
Lose 5-7 percent of your body weight through lifestyle changes
Gradually increase physical activity to a minimum of 150 minutes a week (don't worry, this is doable)
Would you like to learn more?
Please join us for one of these FREE informational sessions:
Thursday, January 28
Wednesday, February 3
Wednesday, February 10
All hour-long FREE sessions begin at noon. Reserve your spot today! Call Karen Droesch at (937) 569-6750 or email her at Karen.Droesch@waynehealthcare.org.
Last year, our participants lost a total of 104 pounds, and most reduced the number of medications they were taking substantially.
Class Info and Benefits:
Participants meet for 26 sessions throughout the year.
In addition to instruction and support, each participant will receive class materials, a pedometer, a measuring cup, a portion plate, a Calorie King book, and food and exercise trackers.
Classes are held on Wednesdays from 12-1 pm.
Most of the classes will be held in the hospital's brand new $60 million addition.
Each session is approximately 1 hour long.
Initially, participants will meet weekly, then twice a month and finally monthly. This allows participants to become more skillful in making long-term healthy lifestyle changes with support, accountability and feedback provided during the sessions.

Once a week (February 17, 2021, to April 7, 2021)
Every other week (April 21, 2021, to November 17, 2021)
Once a month (December 1, 2021, to February 2, 2022)
This program is FREE for those who qualify!
Contact Karen Droesch RD, LD, CDE at (937) 569-6750 or karen.droesch@waynehealthcare.org or Jordan Francis, MPH at (937) 569-6409 or Jordan.francis@wayneheatlhcare.org